We're thrilled to announce our latest DLC for Jurassic World Evolution 2. Developed in close partnership with Universal Pictures and Amblin Entertainment, Jurassic World Evolution 2: Dominion Biosyn Expansion is inspired by Universal Pictures and Amblin Entertainment's Jurassic World Dominion so you can bring all-new thrills, excitement and chaos to the ground-breaking management simulation game. The Expansion features an immersive campaign, new prehistoric species (including highly requested feathered dinosaurs), an original Chaos Theory scenario, innovative gameplay mechanics, and more.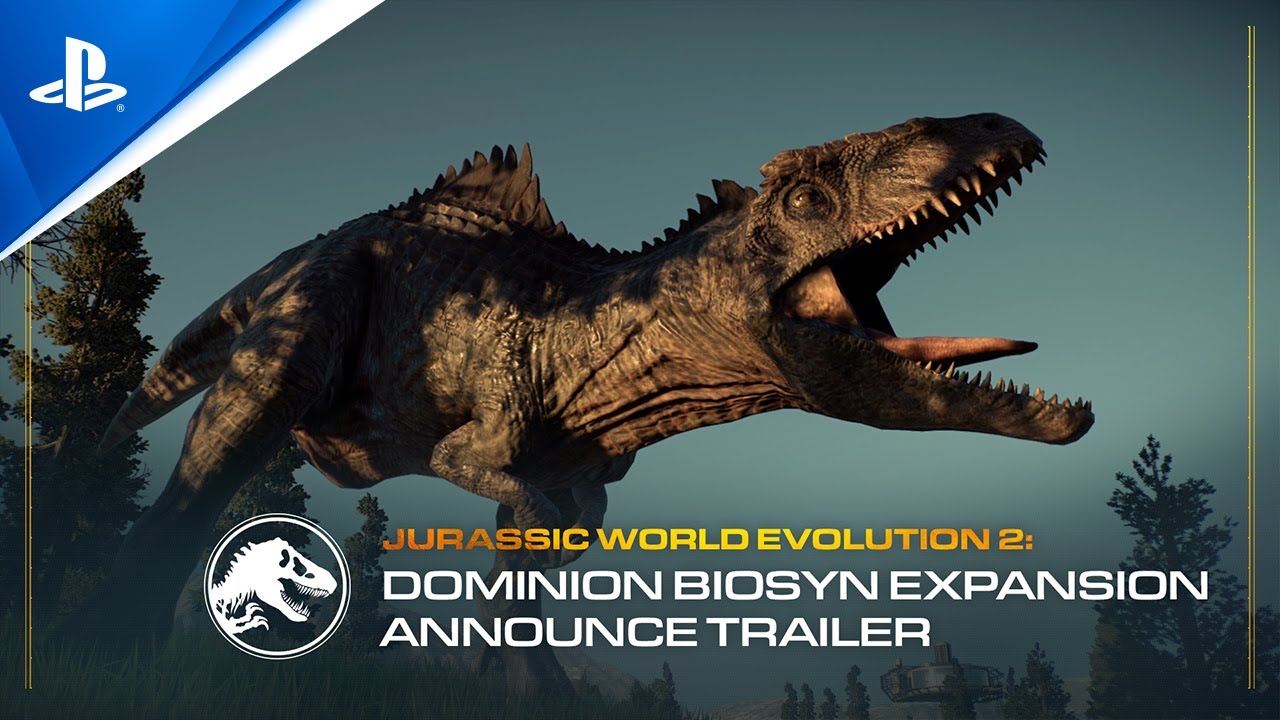 First up is Campaign mode. Immerse yourself in a thrilling new story expanding on Jurassic World Dominion. You'll work alongside iconic characters from the franchise including Claire Dearing (voiced by Bryce Dallas Howard), Dr. Alan Grant (voiced by Sam Neill), Dr. Ellie Sattler (voiced by Laura Dern) and Lewis Dodgson (voiced by Campbell Scott). You will construct Biosyn Genetics new research compound, sending scientists to retrieve amber-encased DNA, synthesise and incubate stunning new species, and observe their diverse behaviours.
Develop the Biosyn Genetics Research Compound through multiple stages of construction and use a range of film-inspired buildings to build out the facility; dig deep into amber mines and unearth rare genomes to create all-new prehistoric species; instruct scientists to synthesise and incubate awe-inspiring dinosaurs such as new feathered species; and release them into your parks. In addition, there's a faster way to move staff around your facility with the Hyper Loop transport network.
Next, is the thrilling new Chaos Theory scenario. Now, in Jurassic World Evolution 2: Dominion Biosyn Expansion, you can play through a gripping new scenario inspired by the epic events of Jurassic World Dominion. Build your very own facility to house dinosaurs in a diverse Sierra Nevada environment featuring majestic pine forests, snowy hills and sweeping plains. Use dinosaur-wrangling mechanics to corral herds of animals quickly without needing to tranquilise and transport them and ensure their safety with new security measures. When rustlers try stealing your dinosaurs, fend them off by blasting high-powered floodlights and speeding to intercept their vehicles. However you choose to manage the scenario, in the expansion's new Chaos Theory mode, you'll see how events unfold when you take control.
The Dominion Biosyn Expansion wouldn't be complete without four spectacular new prehistoric species. These include eagerly anticipated feathered dinosaurs in the forms of the seriously striking Therizinosaurus, Pyroraptor, and Quetzalcoatlus. The remarkable plumage even responding differently to changing weather conditions such as snow and rain, they're bound to be a major standout attraction in your parks. In addition to these awe-inspiring species is the Dimetrodon, which is the oldest prehistoric species ever seen in a Jurassic World Evolution game, actually becoming extinct millions of years before dinosaurs first appeared.
Alongside these new species, we are also introducing two new variants including, the Dreadnoughtus, which is a striking variant of the game's existing 26 metre-long titan herbivore; and the Giganotosaurus variant, another alternative spin on the massive carnivore that manages to outsize even the mighty T-Rex. There will also be six new cosmetic skins for existing species with the Jurassic World Evolution 2: Dominion Biosyn Expansion. There are two for the infamous T-Rex both a scarred and feathered versions, one for Dilophosaurus, and 3 alternative skins for the Parasaurolophus, giving fan favourites a new lease of life. Whether adding downy plumage to the T-Rex or matching the Dilophosaurus to the film version, you'll give familiar dinosaurs an additional, but still authentic, dimension.
We're so excited for Jurassic World Evolution 2: Dominion Biosyn Expansion and we can't wait for you to play it, whether you're diving into the new campaign mode tying into Jurassic World Dominion, immersing yourself in a new Chaos Theory stage focusing on a key event in the upcoming film, introducing new species, skins and variants into your parks, or playing with exciting new gameplay mechanics.
Jurassic World Evolution 2: Dominion Biosyn Expansion launches June 14 on PlayStation 5 and PlayStation 4.