America's hero is back! Guile returns in Street Fighter 6 when it launches in 2023 – and brings his endless swagger with him. As a U.S. Air Force pilot who fights for his country, Guile succeeded in dismantling Shadaloo and avenged his friend Charlie Nash. Although he enjoys living the family-man life, a new mission now awaits.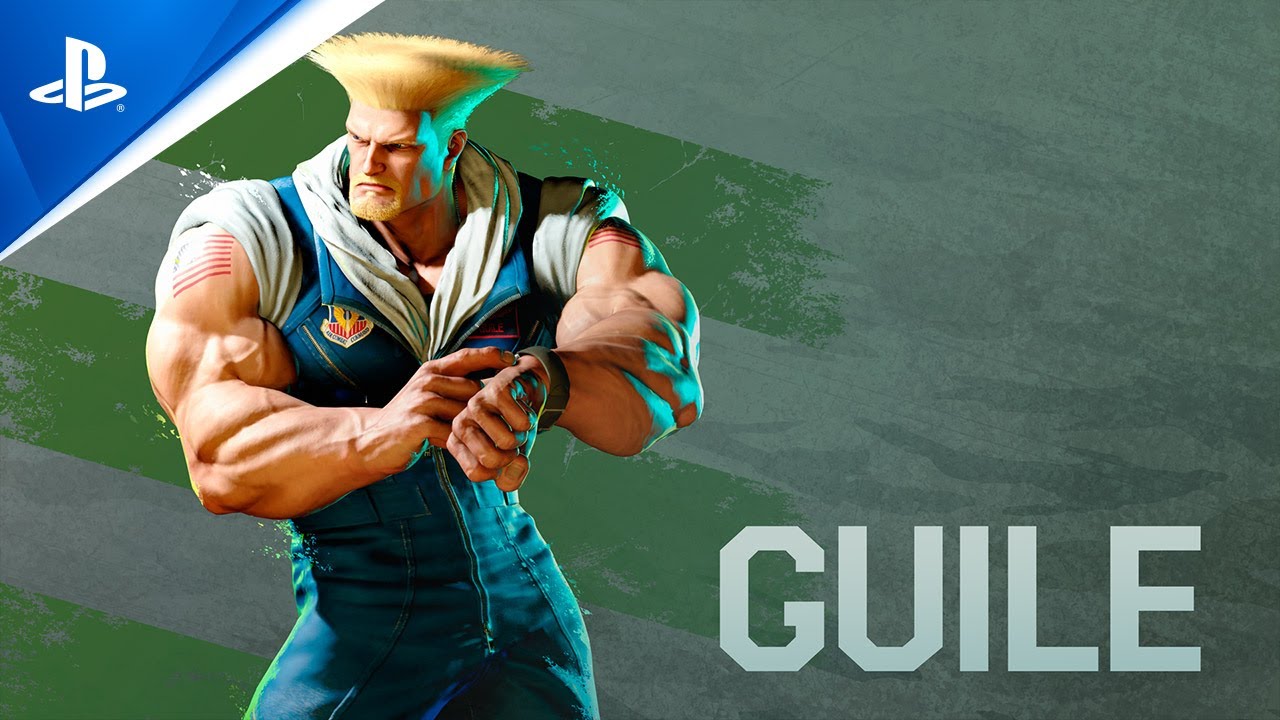 Guile's move set in Street Fighter 6 combines his signature moves with fresh additions. He is one powerhouse of a character who retains his ability to keep opponents at a distance. Splatters of green and yellow paint cover the stage when Guile utilizes the Drive System, harkening to the colors of his classic look.
Guile's Sonic Boom and Somersault Kick (Flash Kick) are set to make their triumphant return in Street Fighter 6. What would Guile be without them, right? Sonic Boom is Guile's main projectile ability and travels across the stage while Somersault Kick is an instant upwards move that can protect from airborne attacks.
Guile's Sonic Blade from Street Fighter V returns as a Special Move rather than a V-Skill and sees him placing a stationary aerial slash in front of him. Sonic Blade can then be turned into a two-hit projectile if combined with Sonic Boom.
Let's go over all three of Guile's Super Arts, which reflects his journey as one of the most well-known World Warriors!
Sonic Hurricane (1 Stock) – Introduced in Street Fighter Alpha 3, Guile fires a massive aerial slash directly ahead. If used with a Heavy Punch, the aerial slash fires diagonally upwards as a good anti-air option. An extremely versatile move that can be used in combos, to counter projectiles, or as a way to turn the tables when being pressured.
Solid Puncher (2 Stocks) – Introduced in Street Fighter V as Guile's V-Trigger I, Solid Puncher is now a Super Art. Guile envelops both arms in aerial slashes and enables the use of Sonic Break, where a flurry of small Sonic Boom projectiles can be unleashed simply by pressing the punch buttons.
Crossfire Somersault (3 Stocks) – A brand new Super Art, Guile puffs his chest and fires a massive aerial slash that launches the opponent into the air before following up with a brutal Somersault Kick.
In previous games in the series, Guile's iconic stage was at a base on the ground. For Street Fighter 6, put on your lifejackets, because his stage now takes place at an anchored aircraft carrier at sea. Complete with mid-flight planes, a multicultural collection of flags, and a posse of cheerful onlookers, Guile's stage has undergone a revamp to match the new era it takes place in. How does his stage fit into his story this time?
That's it for now when it comes to our coverage of Guile – who remains a Chad! Street Fighter 6 is scheduled for landing in 2023 on PlayStation 5 and PlayStation 4.