The best Wi-Fi extender give your home the extra Wi-Fi coverage it needs, while abolishing lag, and minimizing network latencies. The best Wi-Fi extender solves a problem most people often don't think about until it comes to bite them in the ass. A weak Wi-Fi signal can disrupt an important Zoom call, or mean you can't enjoy browsing social media in the back bathroom. Imagine setting up your powerful new PC only to realize you're slightly out of your wireless router's range.
A bad Wi-Fi signal will affect your download speeds and will make online gaming nigh impossible, but a Wi-Fi range extender will fill that gap. Of course, you could get one of the best gaming routers and see how far you can realistically run an ethernet cable through your home without it becoming a tripping hazard. Without a Wi-Fi extender, be ready to spend a night stapling a 100ft of ethernet cable along your walls, and under carpets.
Before scooping a fancy new 6GHz Wi-Fi extender, check your device's capabilities first. PCs, game consoles, and smart TVs should be on the higher bands like 6E or 5GHz, while other devices like smart home gear and kitchen should be left to the more congested 2.4GHz band. That goofy robot vacuum you bought or your kid's tablet doesn't need to be that fast.
Below are a selection of the best Wi-Fi range extenders we've personally tested. We checked their signal strength, stability, and cost-efficiency so you don't get caught out with a weak signal or an ethernet tripping hazard ever again. These are the best options available right now.
The best Wi-Fi range extenders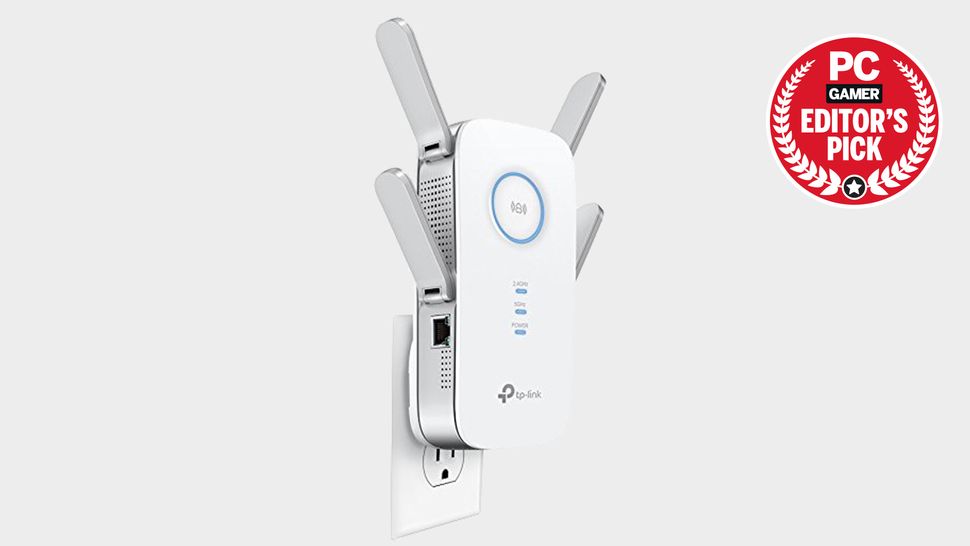 A large and heavy Wi-Fi extender with a vent at the top to let the heat out, the RE650 has four antennas and the second-fastest speeds of all the extenders on test here. You get 1,733Mbps on the 5GHz band and 800Mbps on 2.4Ghz, enough to have several people streaming and gaming simultaneously, as long as your internet speeds are up to it.
It's a Wi-Fi 5 extender and makes use of MU-MIMO to ensure multiple users get a good signal; plus, there's a gigabit ethernet port for plugging in a whole network's worth of wired devices.
Sadly, we couldn't get it to stand up on its antennas as much as we tried. It takes longer to start working after being switched on than others on the test, but this didn't stop us from ranking it as the best Wi-Fi extender for most people because it combined coverage, speed, and affordability.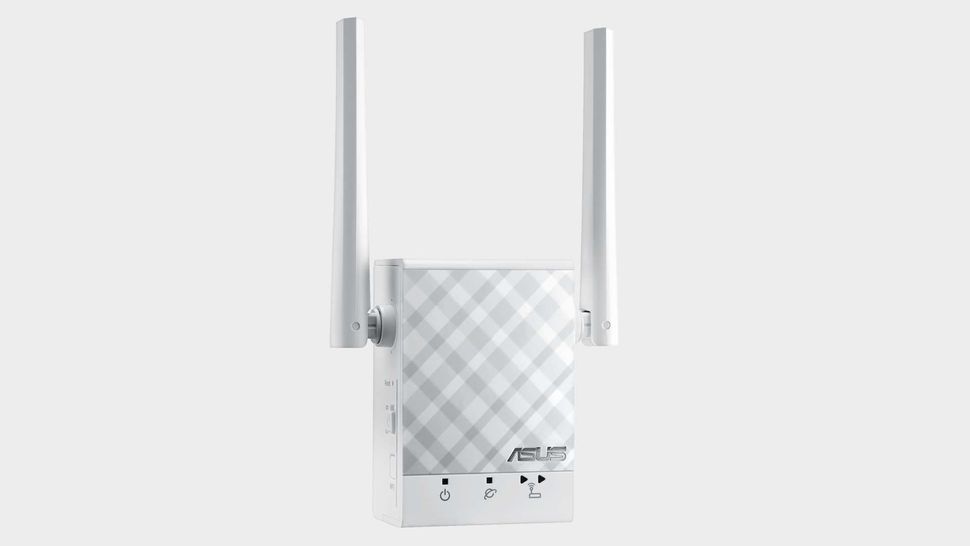 To our delight, it's possible to stand the Asus Wi-Fi AC Repeater upside down on its antennas as if it were a diminutive Scoutwalker. Admittedly, this has nothing to do with its wireless boosting capabilities, which are excellent as long as you're not looking for Wi-Fi 6.
Along with the 433MBps Wi-Fi—you'll need to amalgamate the channels to get the advertised 750Mbps—you get an ethernet port (only 10/100 rather than gigabit) so that the extender can be wired into your existing network and operate in access point mode. There's an on/off switch, a WPS button for easy pairing with a router, and a reset button. LEDs on the front indicate power and network status. Inside the box, you get not one but two quick start guides to talk you through setup in various languages.
The extender merged seamlessly into our network, is reasonably priced, and provides good speeds, making it ideal for those places where your router's Wi-Fi can't reach.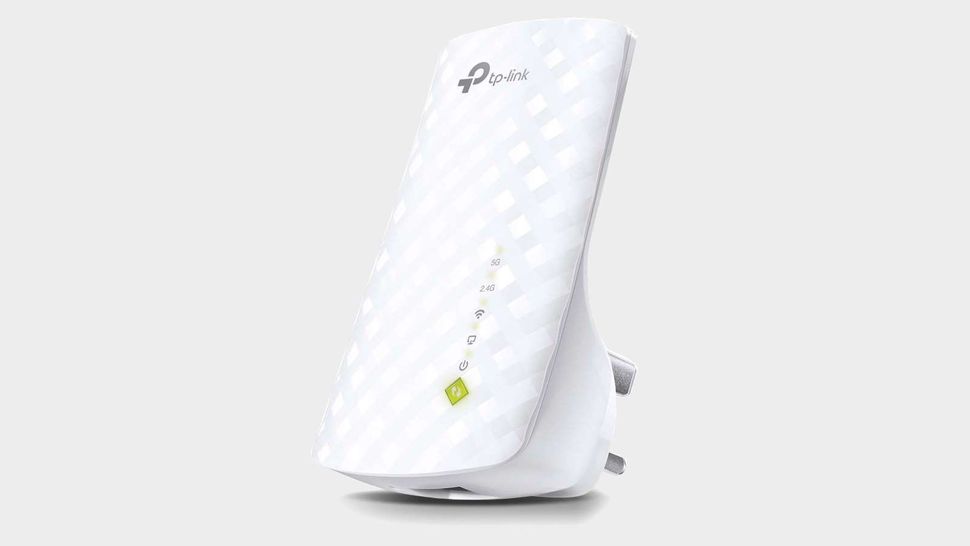 How much network speed do you really need? If you're using your Wi-Fi extender to pass through internet access and don't need fast file transfer, 433Mbps on the 5GHz channel is enough for most broadband providers.
There are always overheads, of course, but with something like 4K streaming taking perhaps 15Mbps of bandwidth, you're still not going to struggle too much, and its ability to eliminate dead spots is as good as all the rest. Its ethernet port is a 10/100 model, so you're not going to get the full benefit of the Wi-Fi 5 speed there either. A clever feature to maximize the speed you get is Full Speed Mode, which connects to the router exclusively using the 5GHz network, then uses the 2.4GHz channel to connect to laptops, phones, lightbulbs, etc.
With no external antennas, the range is limited, and therefore positioning is vital. There's no power passthrough so that you will lose a plug socket, but it's not using Powerline, so anywhere on an extension strip will do. Indicator lights on the front of the extender tell you if you're getting a good wireless connection, so it's simple enough to try a few sockets and see which is best.
Best mesh router kit | Best gaming laptops | Best gaming motherboards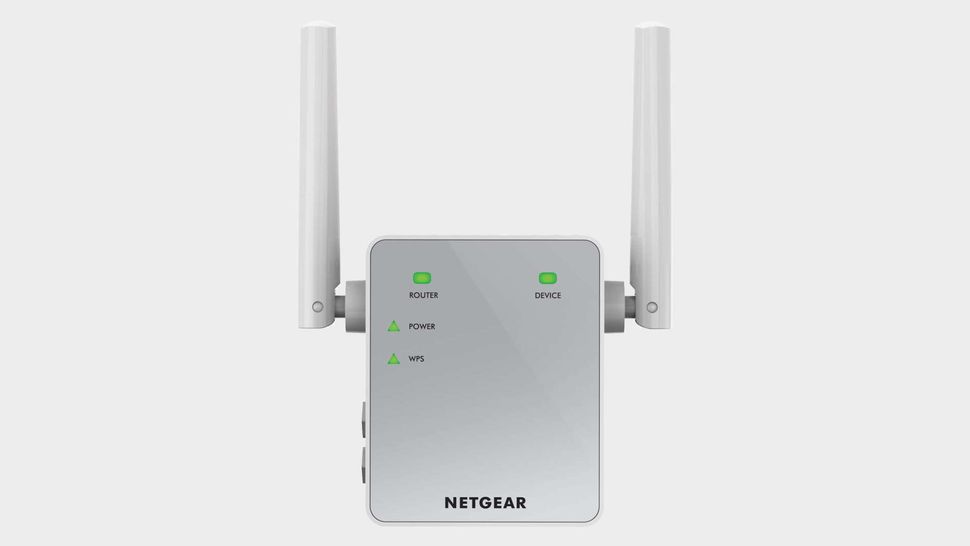 This 750Mbps Wi-Fi 5 extender will not stand upside down on its antennas due to them having rounded ends, but otherwise is a close cousin of the Asus model.
You get an on/off switch, WPS, and reset buttons, plus a 10/100 ethernet port that can put the extender into access point mode or allow an ethernet-only device to access a wireless network. The device connected immediately to our network over WPS and delivered fast stable internet access.
Wi-Fi 5 is only available on the 5GHz network, with the 2.4GHz connection using Wi-Fi 4. Netgear's Fastlane system combines both channels into one for a higher speed connection if you're having trouble streaming 4K or online gaming. The settings can be accessed through the web interface or Netgear's app.
If you've got many older devices that can't use the newer Wi-Fi standards, this extender will take care of them while leaving the faster bands available for gaming or streaming.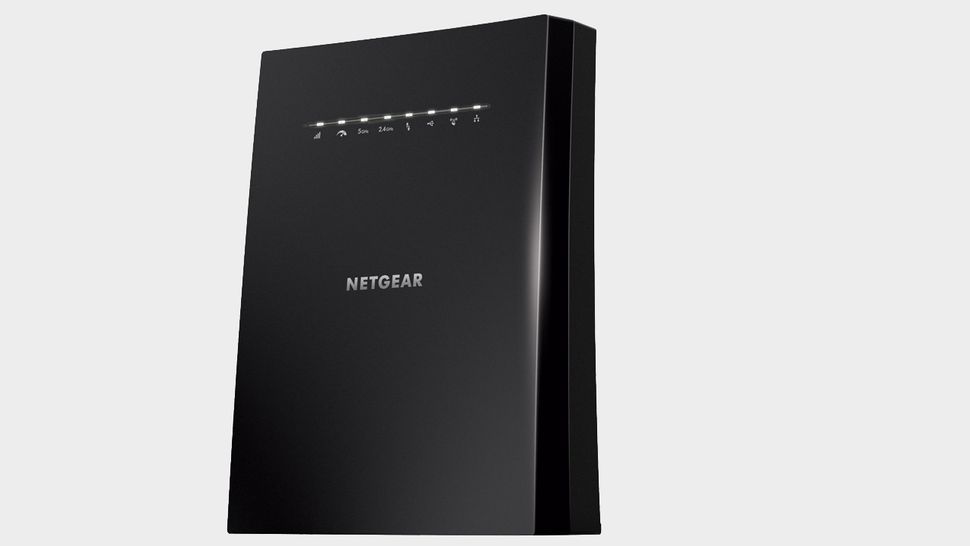 This is a beast. A black slab of plastic that's effectively a router in its own right and moves us from Wi-Fi extender to mesh router territory. It's the only unit on the test to have its own power supply, the only one to have four-gigabit ethernet ports and a USB 2 port, and the only one to address three wireless bands (one is kept as a dedicated link to your router).
It's expensive, but if you're in a particularly wide or tall house, or maybe a castle, and desire a solid wireless signal in every room, then this is the way to go. And if you're feeling really flush, there's an AX6000 version that costs twice as much.
Setup is as simple as pressing the WPS buttons on both the extender and your router and letting them sort themselves out, with the Nighthawk app available if you want to delve into the settings. The quad-core processor keeps things speeding along nicely, and the rarely-seen 802.11k protocol is supported to handle traffic management. All this means is that one of these, properly placed, should iron out any wrinkles in your home network.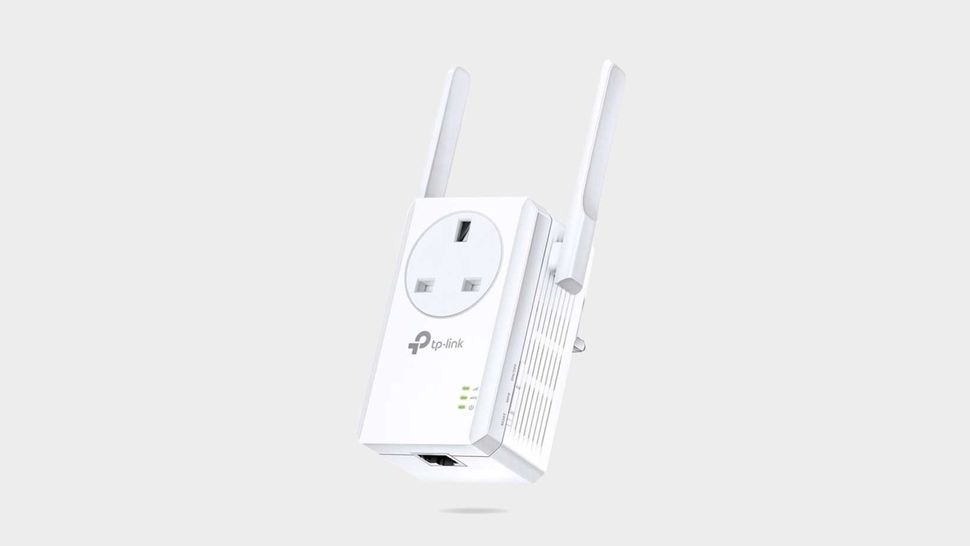 Not the smallest extender on the test but the slowest, this unit from TP-Link makes up for being only Wi-Fi 4 and 2.4GHz with some additional features. For a start, it's the only one here with a power socket pass-through, which means you won't have to sacrifice a socket to use it.
There's 2×2 MIMO, which is unusual for a Wi-Fi 4 extender and should help keep the 300Mbps of bandwidth going where it needs to be. There are two antennas, too narrow to allow balancing upside down, and a 10/100Mbps ethernet port. Setup through WPS is a breeze, and if you need to delve into settings, you can either use the TP-Link Tether app on your phone or do it through a web browser.
It's hard to recommend this, despite it being cheap, as Wi-Fi 4 is outdated, and Wi-Fi 5 and 6 extenders will be backward compatible during the time it takes you to upgrade to one of the best gaming routers. It is affordable at least, and the pass-through means you don't lose a socket.
Best Wi-Fi range extenders FAQ
What's the most important spec for a Wi-Fi extender?
Extenders come in all shapes and sizes, but what really matters is which version of Wi-Fi they support and how fast they're able to transfer data. Wi-Fi 6E is the latest version of the Wi-Fi spec, and along with more speed, it brings some interesting things to the table, such as increased throughput and enhances beamforming over Wi-Fi 5.
To use it, every link in the chain must support the new standard, from the router, through any extenders, to the client PC. None of the extenders we've tested here support the latest standard, which has yet to make its way into many homes. The next time you upgrade your router, however, it's worth looking out for.
Where should I place my Wi-Fi extender?
If you have a Wi-Fi dead spot in your home, then the positioning of a Wi-Fi extender is crucial. The extender needs to be in good contact with the router, so don't place it in the dead spot itself but on the edge of your router's current coverage. As these extenders plug into a socket, you may be limited by their placement, but you can always put one on the end of an extension cord if need be.
What is a Mesh Wi-Fi system?
If you know there will be problems with Wi-Fi in your home—perhaps it's particularly large, or was built on top of a crashed UFO—then it's worth looking at a mesh system before you buy a router and a load of extenders. Mesh systems place small stations all over your house to really saturate it with signal, and aren't as expensive as you might think.