Hello PlayStation Blog readers! We're thrilled to bring you the news today that A Monster's Expedition, the award-winning, open-world puzzle game, is available today for PlayStation 4 and PlayStation 5. In A Monster's Expedition you play the role of the titular Monster, exploring an archipelago museum. Knock down trees and solve puzzles to move from island to island, and explore the hilarious Museum of Human Englandland, made by Monsterkind who only vaguely understands humanity.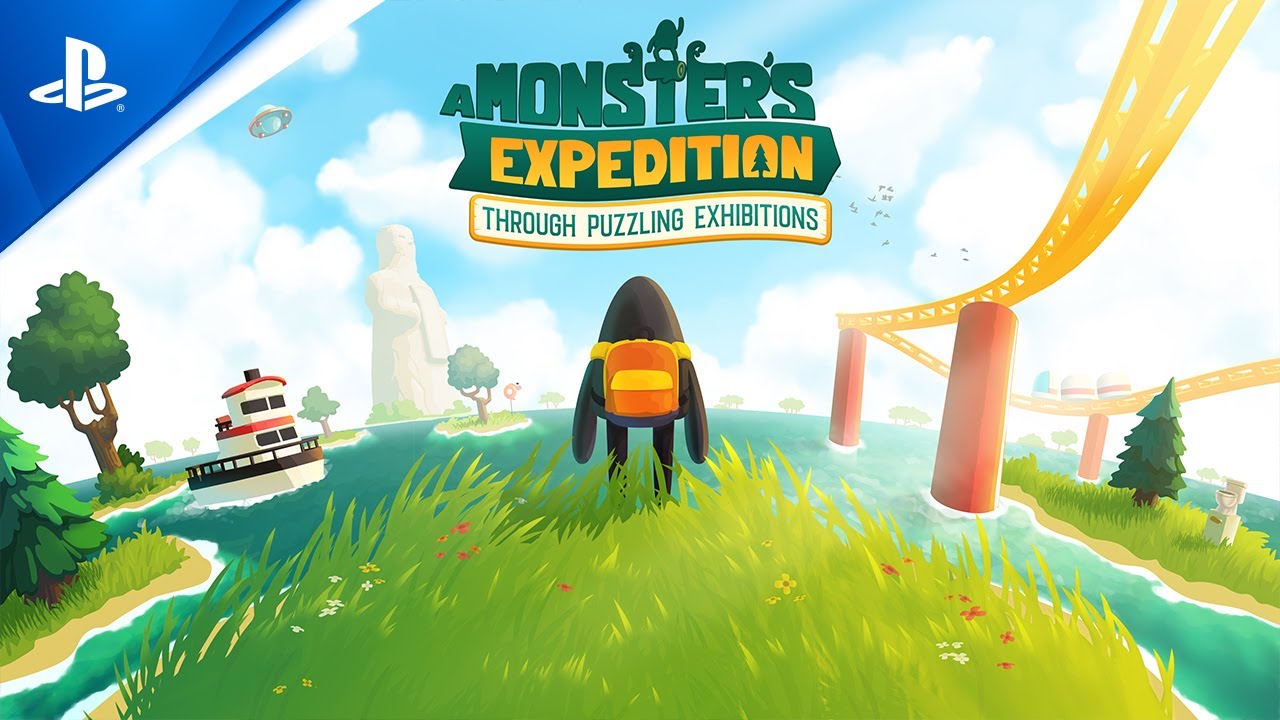 We're excited to be bringing A Monster's Expedition to PlayStation, especially after the warm reception we received with our release of Bonfire Peaks. The PlayStation versions contain all of the updates to date including our hefty Museum Expansion Update, and today's new Hint Update.
The Hint Update is designed to allow new players to come into the game with less pressure and stress about getting stuck, and for returning players to more easily be able to achieve 100% completion. Players can access the settings menu to enable hints about where to go, how to solve each island, and even how to find Friends, the game's most difficult-to-discover type of secret. The Hint System is fully customizable – turn on as much or as little as you want and enjoy the game in whatever way works best for you.
Our goal with hints is that they should push you towards the solution or confirm you're on the right track, without denying you the "aha" moment of working out the details. We do this by showing you where you need to place logs to reach the next island – seeing the end state is often enough to work backwards and make the rest much simpler. And for the hidden Friends, the biggest challenge is just in working out where to start looking – hints for those highlight a few islands that deserve a second look, and it's up to you to work out the rest.
And of course, following our successful and well-received integration of PS5 Activity Cards in Bonfire Peaks, we knew we had to continue the trend with A Monster's Expedition. Designing support for the feature in an open world game like this one was a challenging design endeavor, but we're really excited about what we ended up with. While playing the game for the first time, the Activity Cards take the form of Progression Guides – marking key checkpoints and helping you on your way to the ending credits. Once you hit the end credits of A Monster's Expedition, there's still hours and hours of gameplay remaining, and so we decided that post-completion, Activity Cards should take the form of a completion checklist for the 160 Exhibits across the museum.
Combining the Hint Update, which can help guide you to the exhibits by presenting guidance on individual puzzles to you and point out the locations of undiscovered exhibits themselves, with the Activity Card checklist functionality of showing you just how close you are in each region of the game environment and providing the names of unexplored exhibits, the PS5 version of A Monster's Expedition has a comprehensive set of approachability features to provide a seamless and frictionless post-game experience to see all that the world has to offer.
We hope you love your time with A Monster's Expedition – this game was a joy to make and is the culmination of over a decade of puzzle design expertise. Please have fun and see why this game is so critically beloved, whether you're discovering it for the first time or replaying it after some time away.