Ready to be the boss in the world's most thrilling motorsport? F1 Manager 2022 comes to PS5 and PS4 from August 25.
Players can pre-order right now, and doing just that with the digital version will mean you can play five days early, ahead of the official launch on August 30. Not only that, but if you're a PlayStation Plus subscriber, you'll also get a 10% discount. Not too shabby, right?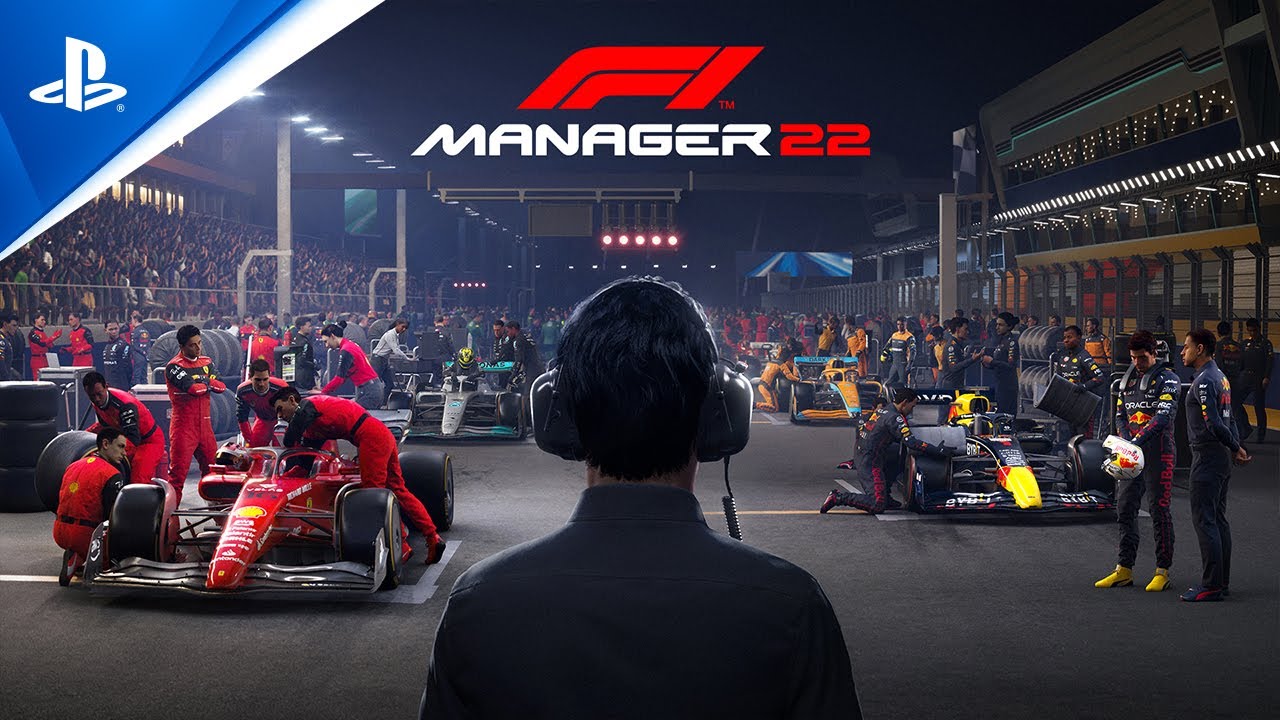 It's incredibly exciting for the whole team at Frontier Developments to be working on a title for a sport that continues to surge in popularity. With a new generation of drivers, gripping storylines, and sensational on-track action taking F1 to new heights, we're delighted to be giving everyone the chance to enter this thrilling world of motorsport.
More people than ever are interested in not just the cars and drivers of an F1 team, but the entire team and process that go into the ground-breaking performance we see on the circuit. Using Frontier's experience of designing deep, nuanced, rewarding management experiences, we're allowing players to see the sheer detail of what goes into running a successful constructor, and then giving them the keys to control it all as the Team Principal.
Whether it's putting together a race strategy for your drivers, using your budget to expand your facilities and develop your car, or scouting the database of real-world drivers and staff for new recruits, the fate of your team will rest solely in your hands.
As you can tell, there is a lot to get stuck into with F1 Manager 2022 – far too much to cover in one post! For now, let's shed some more light on the role you will play during the race weekend. Whilst you'll spend plenty of time as a Team Principal handling matters away from the circuit, you'll also control many factors of the on-track aspect of F1 – all within an authentic, broadcast-quality experience, allowing you to watch the drama unfold from every angle.
Taken your seat on the pit wall? Then let's begin…
Getting to grips
Every F1 race weekend begins with practice sessions, beginning on a Friday. This is valuable track time for your team, particularly your drivers, to prepare for the weekend ahead. Just like in the real sport, every time your cars are on track in F1 Manager 2022 is a chance for you to gather data and turn the odds in your favour.
Over three practice periods, run your cars to assess their performance, increase your drivers' familiarity with the circuit and any new parts you've installed, and receive feedback about each car's setup. As your team will also include a reserve driver slot, you can even choose to put that backup driver in one of your cars for a Practice session, to help boost their development.
The art of the flying lap
Here's where things get more competitive. F1 qualifying sessions establish the grid for the race, and any slip-ups here can seriously hinder your optimal strategy for Sunday. Qualifying is all about giving your drivers the best possible chance to record the fastest possible times – which is easier said than done…
With nine other teams vying to avoid elimination, you'll be tasked with ensuring your cars are out on track at the right time. Once you've chosen tyres and fuel loads, you'll need to watch the session timer, gauge the on-track traffic, grip levels, and even the weather conditions to ensure you're not caught out. If you nail all of this, and your drivers are confident behind the wheel thanks to all that practice running, you'll have a good shot at qualifying in a strong position.
Race day: strategising for success
A strong qualifying session means you're in good shape for Sunday's race, but there's some more prep to be done. Use the data and knowledge you've gathered to formulate a race strategy for your drivers, covering pit stops, tyre selection, and even dictating how hard your drivers should push during each stint.
During all on-track action in F1 Manager 2022, you're provided with an array of information and options, delivered in authentic broadcast-quality presentation, to keep on top of the action. Cycle between on-board and track-side cameras of every car, watch the live timings of the entire field, keep an eye on track conditions, and so much more to help guide your team to the finish line. Instruct your Race Engineers to deliver specific instructions to your drivers, such as going easy on their tyres, staying off the kerbs, and avoid battling their team-mate. Many of the real-world drivers and engineers in F1 Manager 2022 even have real-world audio calls that you'll hear as the action unfolds.
Your race strategy can be tweaked at any time – which may well be vital, as each race can deliver unpredictable moments that Team Principals must react to. From a sudden rain shower, to a crash that brings out the safety car, a reliability issue, or even a red flag that halts the race, you will need to be ready to adapt your approach on the fly when an incident occurs. Handle all of that, and make use of all the options we haven't even scratched the surface here, and you might just end the event watching your drivers celebrate on the podium.
Drive every decision
Plotting a path to glory on race weekends is just the beginning of your role as Team Principal in F1 Manager 2022. Between the races, you'll be in charge of expanding your team's HQ, developing new car parts, maintaining team morale, scouting and hiring top talent, keeping the board happy by hitting expectations and much, much more.
In the exhilarating world of F1, success is the objective for everyone – but how you try to achieve that in F1 Manager 2022 is up to you. We can't wait to see the paths you take and the stories you create from August 25.