It's been difficult to put together a budget gaming PC lately. The ongoing semiconductor shortage has put a lot of stuff on hold. But it finally looks like there's some light at the end of the tunnel. Graphics card prices are starting to sink back down and other components are becoming more and more available. It's finally a pretty good time to start looking into building a budget gaming PC.
Some entry-level GPUs in stock at some online retailers are being marked up above MSRP, but more and more are dropping down to tolerable prices. Even the best budget GPU, the Nvidia RTX 3050, is starting to drop in price. If you keep a look out, chances are you'll find one. Even so, high prices didn't stop us from putting together a $400 gaming PC that doesn't need a graphics card (opens in new tab), either.
The good news is that other crucial components like SSDs, RAM, and CPUs aren't as hard to find. Intel and AMD both have more budget CPUs than ever right now, and really competitive ones at that. When it comes to SSDs and RAM you're practically swimming in affordable options, even at decent capacities.
Our budget PC build does not include peripherals like monitors, mouse, keyboard, etc. It can run most new games at 60fps at 1080p on high settings, though. The bulk of the budget went into a decent CPU and GPU since those two components factor a lot into the system's overall performance. While the RAM we chose isn't fancy, it is fast enough to keep up with our choice of CPU.
If you need want a step up from the budget guild, our main gaming PC build guide (opens in new tab) has a higher budget and delivers more frames for it. But if you're after a more affordable setup with a discrete GPU, you've come to the right place.
CPU
We're big fans of the Core i5 12400, and the only difference with the Core i5 12400F is the lack of onboard graphics. For that omission you can pick this chip up for slightly less at checkout, and seeing as we're recommending a discrete GPU below we don't really need the onboard graphics anyways. That's a smart saving.
This is also a smart chip. This is one of Intel's latest 12th Gen Alder Lake processors, and while it doesn't contain the new Efficient Cores that make more high-end Alder Lake chips so special, the Performance Cores here do put some work in. In fact, they're exceptionally good for gaming, with really great single-threaded performance.
So we like the Core 15 12400F a lot, and since Intel has released cheaper chipsets for its 12th Gen chips it's become a bit of a favourite for us on more budget builds like this one. You also net yourself some sweet benefits with Intel's new 12th Gen platform, though we will be skipping DDR5 for this build since it's so pricey.
Read our full Core i5 12400 review (opens in new tab) (the one with integrated graphics).
GPU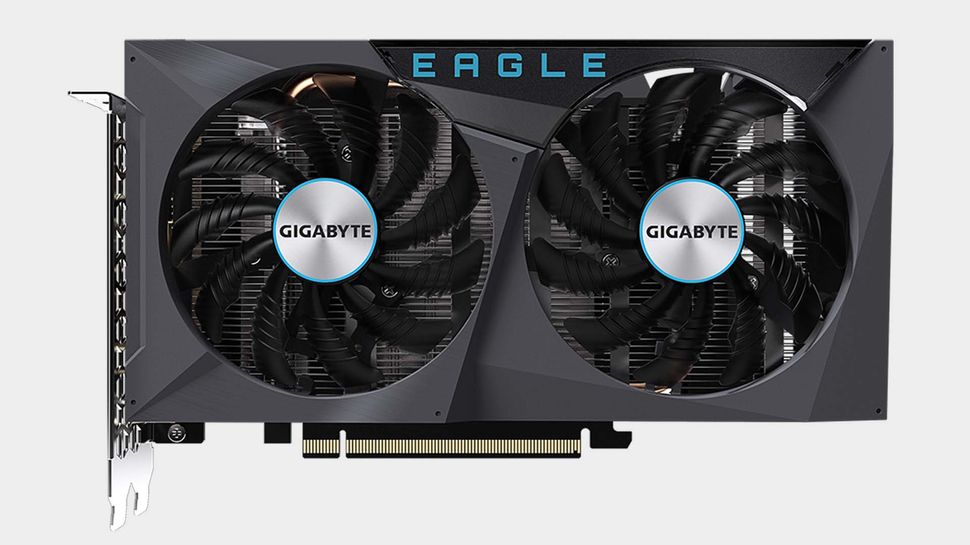 It's not been a great few years to buy into PC gaming or build your own machine. However, things are finally improving. Stock can still be hit or miss, but prices have started to become reasonable again.
The RTX 3050 is a great card for 1080p gaming at the right price. It's an improvement on older Nvidia cards, though you can't find those in stock or at reasonable prices nowadays even if you wanted one. So it's the RTX 3050 or… the AMD Radeon RX 6500 XT. Despite the RX 6500 XT often being available at MSRP more consistently, we still can't really recommend it right now. It's just not much of an improvement over cheaper cards from many years ago, while the RTX 3050 is at least marginally better.
So have a look around for the RTX 3050 and see if you can't find a half decent deal. Perhaps the $249 MSRP is a bit hopeful, but somewhere between that and $300 wouldn't be a half-bad buy in 2022.
Read our full Nvidia GeForce RTX 3050 review (opens in new tab).
Motherboard
This is as cheap as we want to go for the motherboard while still offering room for expansion and upgrades down the line. It's a fairly parsimonious board, but that's not necessarily a bad thing when we're targeting a budget build.
The B660 chipset offers exactly what we need for a gaming machine, with some admirable USB connectivity and speedy PCIe 4.0 support. That's pretty important when you want to run the latest SSDs at their top speed, which might play more into game performance and load times with the arrival of DirectStorage technology (opens in new tab). In the meantime, it's also nice to run your SSDs super-fast for rapid file transfers.
Though importantly this motherboard ditches the more expensive DDR5 memory standard for widely available and very cheap DDR4 kits. That means you don't just save on the motherboard, you also save on your memory, too.
Memory
This slim, no-nonsense memory kit from Corsair lets us deliver a huge amount of memory and increases our clock speeds, too, without going off the deep end with our budget. While indeed not the fastest RAM available by any stretch, lacking the flair of many RGB RAM kits, it's practical and sensible, which is what we need for this build.
Of course, there are tons of options for memory kits, and this is just a suggestion. Memory prices have really dropped recently, but there's always the potential for higher quality RAM savings. You could technically get away with 8GB of RAM, but we'd recommend sticking to 16GB and staying in the realm of 3,200MHz instead.
Just make sure to pay attention to the frequency and timing, as well as the price. If you need some additional pointers when looking for memory, our guide to the best RAM for gaming (opens in new tab) can help point you in the right direction.
SSD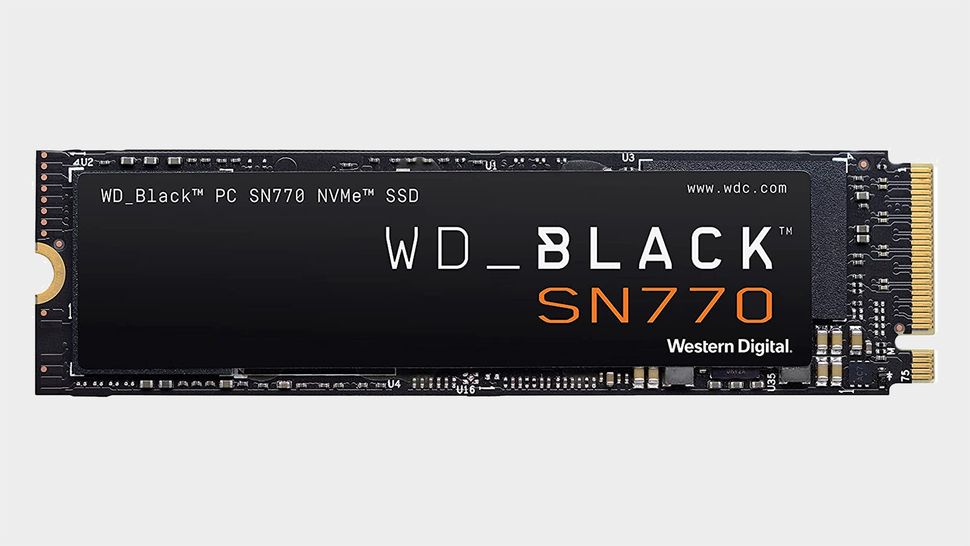 You can't have a PC without storage, and you're going to need space for your OS as well as whatever games you want to keep on hand. Thankfully, with memory and SSD prices dropping in pretty rapid order, we've finally found a way to slot an M.2 SSD into our budget build. Not only are M.2 NVMe SSDs easier to install, but they offer better performance than their SATA counterparts. And when you get 500GB for so little nowadays WD_Black drive is great value.
This drive isn't exactly what anyone would call the top-of-the-line performance, but this is still one of the best SSDs for gaming (opens in new tab) if you're on a budget. Definitely one of the best ways into PCIe 4.0 performance.
You just might want to upgrade to a larger model someday. Luckily, that ASRock B660M motherboard has space for a few SSDs, and at least one at PCIe 4.0 speeds, so you could add a larger, cheaper PCIe 3.0 drive to your PC with ease at a later date.
Power Supply
The various upgrades to our budget rig draw more power than previous builds, so we've had to go with a slightly larger PSU. So as long as you're sticking with a major vendor, you should be okay to choose from a few good options.
This modular unit from EVGA has more than enough juice for our needs. Unless you're planning to put a second GPU in your rig, which would be a little silly nowadays, or more likely upgrade later down the line to a more powerful GPU, there's still modest headroom here. However, you'll need to look at the best power supply units for PC gaming (opens in new tab) if you want to take your upgrades much further.
Case
Cases can be extremely subjective, and while it's easy to spend more than this, you'll be hard-pressed to find a better one for less. We've settled on this relatively spacious and inexpensive case from Corsair, which is something of a go-to for us when we consider cheaper cases. It lacks many of the bells and whistles that a more expensive case can provide, but it gets the job done without cutting too many corners.
This Corsair model is getting on a bit now, but it's still worth looking at as it's so cheap.
There is a certain temptation to max out your budget on a pretty looking case, but it's important to remember this piece of your build will have no impact on performance than the other stuff you should be spending money on. Buy something that does what you need it to do and is easy to work with.
Or go ahead and make a fashion statement; just don't expect higher framerates.
Components
Budget gaming PC build guide FAQ
What do I do if I can't find GPU stock?
One thing you might have noticed is that GPU stock can be running either low or is priced too high. It probably will be for at least another couple of months, too. Trust us; we are just as frustrated with all the hardware shortages as you are.
There are a few techniques to buying a new GPU (opens in new tab) in the silicon drought, but if you're in a rush, the best gaming PCs offer a shortcut to a high-performance machine with less of a premium than some individual graphics cards today.
What if I need to spend some of my PC budget on peripherals?
Like our other build guides, the money we've allowed for this budget gaming PC build doesn't include anything that lives outside of the case. If you're upgrading, this shouldn't be too much of an issue, but if you're starting from scratch, you'll need to make sure you set aside extra cash for a Windows license, a monitor (or two), and a keyboard and mouse.
If you're struggling with those additional expenses, you can opt for a smaller SSD or memory kit—both of which are easy to upgrade in the future when you have a bit more cash at your disposal.