Iconic LEGO themes are about to collide in a brick-battling game that's full of customization, unlockable content, and action-packed brawling for the whole family. As we gear up for the release of the new light-hearted brawler on PS5 and PS4 on September 2, 2022, the dev team behind LEGO Brawls takes us through the game with exclusive insights.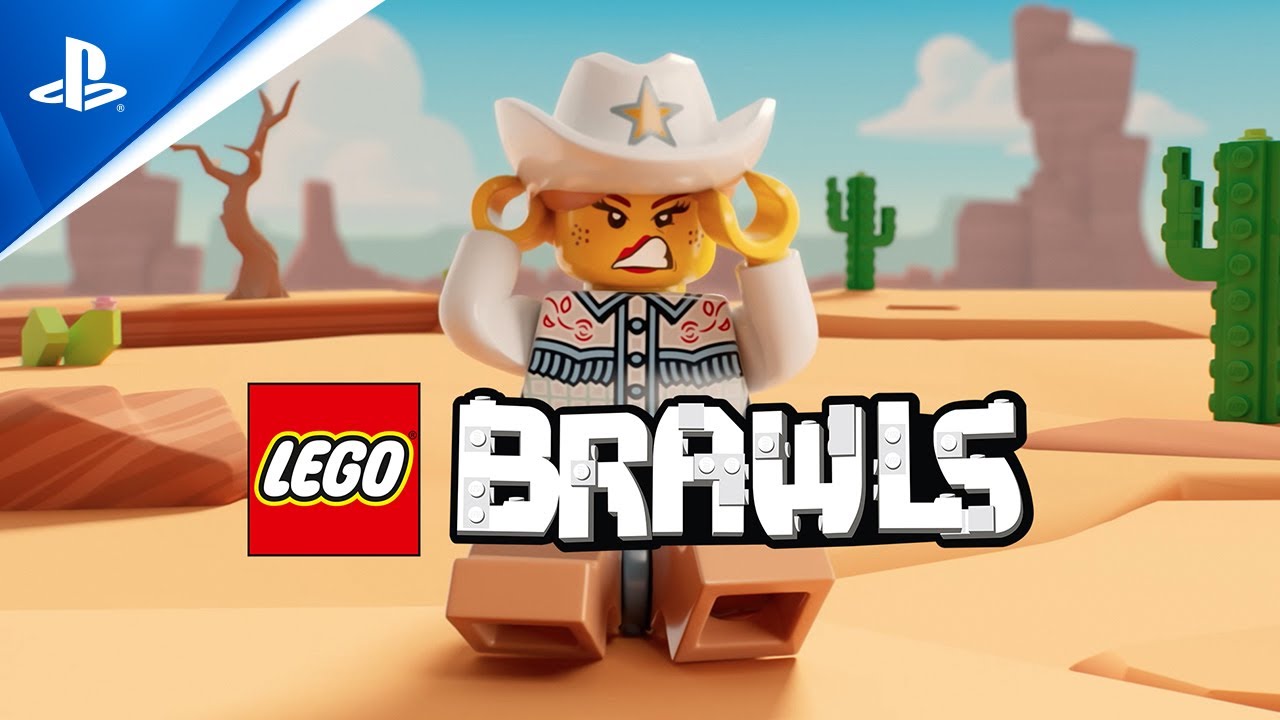 Infinite customization
There are some distinct features that make LEGO Brawls a first for the genre. The biggest: LEGO Brawls lets players create their own, fully customizable brawler. You'll compete with customizable minifigures and load-outs tailored to your personality, preference and play style. And you'll unlock new content through gameplay for even more possibilities.
"Infinite" may be a bit of an exaggeration. In fact, we did the math: there are 77,289,215,065,920 minifigure customization options available at launch to be exact… and that's not including the 2,737,000 possible custom load-outs. In true LEGO style, you can choose any combination of LEGO minifigure faces, skin tones, torsos, legs, hats, melees, power-ups, emotes and names to build your perfectly unique brawler.
"The minifigure customization is by far my favorite part of the game," says Dustin Andrew, senior software engineer for Red Games Co., the independent studio that developed and published LEGO Brawls in partnership with LEGO Games. "There are literally trillions of possible crazy combinations. I could spend hours just coming up with fun brawlers."
"There are endless goofy combinations to create, and it is fun to see players expressing themselves in different ways," adds Alex Medes, QA lead for the game.
Dustin's go-to brawler: a scruffy-looking scallywag. Trent Burke, an engineer behind the game, opts for an old and seasoned Super Legend who uses whatever weapon he can find (a plank of wood works just as well as a sword).
What brawler would be complete without a personal load-out? Power-ups range from light to heavy, and can be anything from chickens to hot dog shooters to a flying rocket shaped like a fist.
"My favorite power-up is the saxophone unlocked by the Punk Pirate champion," says Alex. "It heals me and nearby allies, and gives them a temporary damage increase as well."
"My favorite power up is definitely the cactus because it makes you invincible for a short period of time," adds Victor Rios, an animator for the game.
Dustin's favorite? "Hands down Pigsy's Food Truck. It has saved my bacon so many times. It's a super power-up with the ability to push players off a point or over the edge of a cliff. Also the endless rain of sausage firepower is hilarious."
Once you've built your brawler, that's when the real mayhem begins.
Epic LEGO themed-levels
Levels are centered around LEGO themes, ranging from classics like Castle and Western to fan-favorite IPs including Jurassic, Ninjago and Monkie Kid, each with different game modes, unique challenges, and win conditions. At the start of a match, all players will vote on which theme to play.
"We never wanted the various levels to be the same, just with different art," says LEGO Brawls' producer, Rae Reynolds. "Each level has its own unique hook – anything from level-specific power-ups, various ways to traverse, or gaining control of big characters to completely different objectives and team structure. Some levels have a special twist, like being able to control the T-Rex in Jurassic World, or the Mech and Wojira in Ninjago."
Each level can be picked up and played, but over time you'll learn the advantages and disadvantages of that level's distinct traits and form your own winning strategies.
"Discovering new power-ups and weapons is my favorite part of LEGO Brawls," says Trent. "It's exciting because there are so many, it adds variety and new strategies for each one you get."
Game modes
You can choose to brawl online, matched with allies and opponents across platforms, or host or join private games to party with friends. The assortment of levels provide a variety of game modes—some are more focused on casual teamwork or collection, while others present a more intense individual challenge.
In a Control Point game, you team up and compete 4v4 to capture and hold a control point. When your team alone is on the control point, you generate points for your team's Vict-o-meter. Fill the Vict-o-meter to win.
In Collect Mode, you'll gather collectibles (like peaches in the Monkie Kid level or crystals in Blacktron). The first player or team to collect and hold enough items wins.
In a Brawl Royale, it's every minifigure for themself. The player who defeats the most opponents in this chaotic kerfuffle will be crowned the victor.
In a Free-For-Brawl, the last player standing wins. In this fast-paced competitive mode, defeating another player will fill up your health, giving you the chance to catch up.
In Party Mode, you can host or join private games with friends locally for a 4-player free-for-brawl or online in a 4v4 match. With cross-platform support, you can invite your squad to a party, regardless of the platform they play on.
"We wanted to make sure that players could enjoy brawling with friends online or get that competitive couch co-op experience when together in a room like so many great games in the past used to have," says Rory Aguilar, lead engineer for the game.
Collectable content
You can select a main theme that not only changes your home screen appearance, but also sets you on course to unlock theme-based collectables through gameplay.
Your success in a match impacts the amount of studs you earn to collect new minifigures and power-ups. (For those less familiar with LEGO jargon, "studs" are the bumps on a LEGO brick that connect one another. They're also the means to unlock new content in the game.)
"There is a mix of predictability and mystery when unlocking items," says Rae. "You can work towards your goal content by selecting a theme, but there is also a surprise element when getting bonus unlocks."
Avid collectors and completionists may opt to complete entire content tracks before switching to a new theme, which you can do at any time.
One thing is for certain: LEGO Brawls truly is a game for everybody – whether you're a LEGO fan that's in it for the collection, a true competitor building your way to the top of the global leaderboard, or a casual player who simply wants to take down your friends and family with a baguette. It's the sort of game that brings people together, and it's not outrageous to suggest that's what we all need right now.