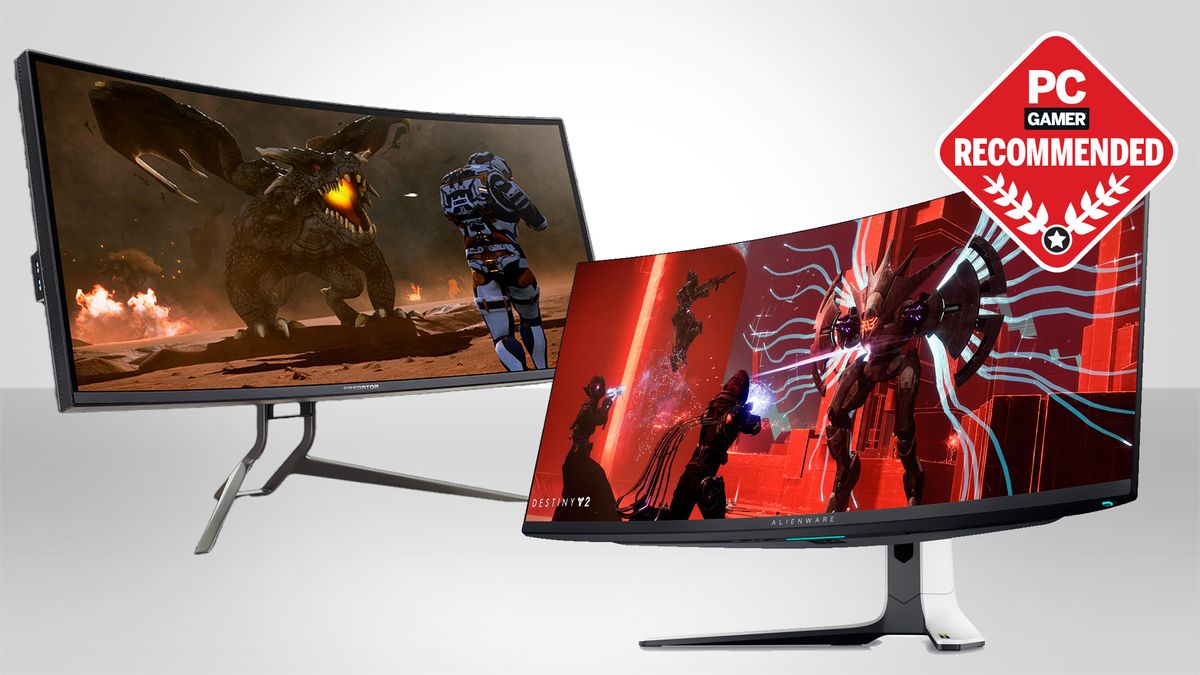 The best curved monitors for gaming pull you directly into your favorite games. It's a level of immersion you don't get from a dinky 19-inch flat panel display. With larger curved screens, having a monitor wrap around the corners puts the game into your peripheral vision. From colossal ultrawides to monitors with more subtle bends, I hand-picked some of my favorite curved displays I tested that are perfect for gaming.
Ultrawide displays like the Alienware 34 QD-OLED or Acer Predator X38 need one of the best graphics cards (opens in new tab) to play at resolutions like 3440 x 1440 comfortably. Matching the monitor's high refresh rate with high frame rates is how you'll ensure your money's well spent, and only a powerful GPU will get you there.
You don't need to spend over $2,000 on a decent curved monitor either; gamers on a budget might consider something smaller than an ultrawide beastie, such as the Dell S3220DGF or Pixio PXC273. These won't break the bank, but they'll still offer a large enough panel size to provide excellent front sitting viewing angles and less image distortion, reducing eyestrain. You'd be surprised how much they deliver through specs and performance. That's as long as you don't mind omitting some pixels and other fancier features.
Below, we've rounded up the best curved monitors for gaming, having tested each one extensively. Some we even use daily in our setups. Check them out, and treat your eyeballs to some immersive, responsive gaming action for the right price.
Best curved monitors for gaming
OLED has truly arrived on PC. Alienware's 34 QD-OLED is one of very few gaming monitors to receive such a stellar score from us, and it's no surprise. Dell has nailed the OLED panel in this screen and it's absolutely gorgeous for PC gaming.
What that panel can deliver in either of its HDR modes, HDR 400 True Black or HDR Peak 1000, is nothing short of exceptional. The image it produces is punchy and vibrant, but it doesn't stop there. In gaming terms, this thing is a beast, too. It's capable of delivering 175Hz refresh, on a smart-looking OLED no less, and its response time is absurdly quick at 0.1ms. It cruised through our monitor testing suite, and you really notice that speed in-game, too.
Heck, even typically underwhelming titles—in visual terms—like Call of Duty: Warzone look great thanks to the quantum dot-enhanced saturation and speedy response. The slight softening of the image that you have to put up with pretty much any LCD panel when flying around maps in online shooters and other fast-paced games simply isn't there.
Not only is it OLED, it's also Samsung's hot new QD-LED tech, which combines the ideal RGB subpixel structure with quantum dot technology to produce both excellent colour saturation and an even brighter panel. Net result? Alienware is claiming both an impressive 99.3 percent coverage of the demanding DCI-P3 colour space and fully 1,000 nits brightness, albeit that brightness level can only be achieved on a small portion of the panel, not across the entire screen.
OLED is also far faster than LCD. By how much depends on how you measure things. The fastest current IPS monitors are quoted at around 1ms for grey-to-grey response. But that only measures part of the transition between colours. The full change takes much longer. By comparison, Alienware is quoting this OLED panel at 0.1ms. And that's likely for the full transition. It's at least an order of magnitude faster.
If all this sounds a little hyperbolic, it doesn't actually mean that all LCD monitors are now awful. In fact, when it comes to refresh rates and therefore latency, LCD monitors with 360Hz-plus refresh are clearly quicker. Latency is traditionally a weak point for OLED, and while we didn't sense any subjective issue with this 175Hz monitor, there's little doubt that if your gaming fun and success hinges on having the lowest possible latency, there are faster screens available.
There's no HDMI 2.1 on this panel, however. So it's probably not the best fit for console gaming as a result. But this is PC Gamer, and if you're going to hook your PC up to a high-end gaming monitor, we recommend it be this one.
Read our full Alienware 34 QD-OLED (AW3423DW) review (opens in new tab).
Acer makes good gaming monitors. Some of the best. So, it's no surprise that the Acer Predator X38 made it onto the list. The Predator X38 provides high brightness (for a curved monitor) and great colors on a 38-inch IPS panel with a 3840×1600 native resolution.
What can't be understated is the X38's killer design with its built-in LEDs, speakers, and thin aluminum legs. The under-glow of the monitor's bottom-facing LEDs provides a nice ambiance to whatever you're playing as well. And first impressions are very good, too, thanks to an unusually pleasant unboxing and setting up process. I found it surprisingly light for a monster this size, at just 9.48kg – and that includes the big metal stand, which comes pre-fitted, another setup nicety.
The ultrawide aspect ratio, and 3840×1600 resolution, gives you a wide field of view, especially in shooters where expanding the battlefield could give you a strategic edge. In Doom Eternal the experience was almost overwhelming, and seeing the colours of this IPS in such a sumptuous environment was an eye candy deluxe thrill. It doesn't quite dazzle like a Quantum Dot screen, again Samsung does slightly better with that technology across its recent gaming screens, but there's little to complain about. At HDR 400, it's good enough to deliver what you want in HDR effects, but it's not dazzling like the HDR 1000 screens you can now buy, like the Asus PG43UQ.
But that also makes it extremely well suited to driving games, and while it might not have the extreme width of something like the 49-inch Samsung CRG9, its 1600 vertical res is debatably more useful than the maximum 1440 of that Samsung model, or paltry 1080 of its still-popular 49-inch predecessors.
Indeed, it's the 1600 vertical res that makes this really shine as a gaming screen – every ultrawide monitor I've reviewed so far is lacking in that department and having as much tall as you do wide really opens things up both viscerally, and for better usability.
This feature-loaded gaming monitor doesn't come cheap, though. Expect to spend around $1,700 on this bad boy, but it'll be worth every penny.
Read our full Acer Predator X38 review (opens in new tab).
We'd all love to have a thousand bucks burning a hole in our back pockets to blow on a new gaming monitor. But back in the real world, the Dell S3222DGM wants a crack at the kind of budget most of us actually have.
It's a 32-inch beast with a VA panel running at up to 165Hz and delivering 2560 by 1440 pixels. Yup, the tried and tested 1440p resolution, the sweetspot for real-world gaming according to many, the perfect balance between performance and visual detail. The catch is all that normally applies to 27-inch models. 32 inches? That makes for a pretty big panel for 1440p in terms of pixel density.
Where the low pixel density hurts most is actually in Windows. If you like crisp fonts and lots of desktop real estate, this isn't the monitor for you. For everyone else, well, it comes down to the value proposition. There are faster monitors. There are monitors with superior IPS-powered image quality. There are monitors with all kinds of HDR support not found here. And others with far more pixels or more dramatic aspect ratios.
So, how does it actually perform? Initial impressions are middling to mediocre. This isn't the brightest or punchiest panel we've ever seen, even accounting for expectations set by the modest spec list. On the other hand, there's nothing actually wrong, there's no banding, no sign of compression. It's just not immediately exciting in terms of colours and inherent visual pop.
Inject some motion into proceedings and the picture, pun intended, gets a little clearer. I find the 'extreme' overdrive setting is arguably a little overcooked, with some overshoot actually visible in-game rather than merely detectable in test images. The 'MPRT' setting is, for me, a non-starter since it crushes brightness so comprehensively. 'Super fast' it is, then, and the result is good but not absolutely great response with no overshoot. Pretty much what you'd expect given the 4ms rating for 'super fast'.
But add in the 165Hz refresh and you have a pretty convincing monitor for response-critical online shooters. To be sure, if that is your number one priority, you'd be better off with a higher-refresh 1080p IPS monitor with faster response. But if you want something for a broader remit, the Dell S3222DGM does a decent job at the low latency stuff.
But it's worth remembering that pricing for this class of display—a 32-inch 165Hz 1440p panel—extends all the way up to $800 in the Corsair Xeneon 32QHD165 (opens in new tab). So, while the Dell S3222DGM isn't all that exciting from a technical point of view, for the money, it's pretty convincing.
Read our full Dell S3222DGM review (opens in new tab).
Even among this grouping, the Samsung Odyssey G9 is a vaguely ridiculous offering. Completely in a just-look-at-this-thing way. Obviously, it all begins with that humungous 49-inch panel. The 5,120 by 1,440 native resolution arguably isn't all that exciting given the size and aspect ratio, equating to an unexciting 109 pixels per inch. You'll still need a powerful graphics card to drive this thing too.
It's the sheer scale and the outrageously tight curvature that separates the G9 from just about every other monitor. Including the 240Hz refresh, FreeSync and G-Sync support, HDR 1000 certification including a peak brightness of 1,000 nits, 2,500:1 contrast, 95% coverage of the DCI-P3 gamut, and 1ms response. Quite the package. It isn't perfect, with the HDR performance being rather uninspiring—especially so given the sticker price. Still, in almost every other aspect it's golden.
Anyway, it also doesn't hurt that the G9 looks like a million bucks from almost any angle. OK, the chassis is plastic. But the glossy white finish looks classy, while the 'Infinity Core' LED lighting is slick and funky. The overall effect is something akin to a big-budget sci-fi prop. I like.
I also like most aspects of the Odyssey G9's performance. A lot. First up, let's attend to any doubts over response due to the VA panel. Samsung has included three user-configurable levels of overdrive in the G9's OSD menu. Subjectively, they're difficult to tell apart. But the important conclusion is that the G9 is properly fast and comparable with 1ms IPS monitors. Phew.
There are a few slight snags. Overdrive isn't available with either adaptive refresh or low input-lag mode. But response still looks good with FreeSync or G-Sync available and there's no discernible latency whether you enable the low input lag mode or not.
The major issue involves HDR performance. It's a bit of a mess. For starters, while the G9 does have local dimming, as you'd expect from an HDR1000 panel, it's limited to just 10 edge-lit zones, which makes it pretty much entirely pointless. In mitigation, the inherent contrast, rated at 2,500 to one, of the VA panel ought to help boost HDR performance. But in practice, HDR content is underwhelming on the G9 and lacks the visual highs you'd normally expect from an HDR1000 panel.
So, this monitor does its best work as a particularly punchy SDR screen, in which mode it's good for 420 nits. In PC gaming terms, you haven't lived until you've seen CyberPunk 2077 running in all its ray-traced, DLSS'ed glory on the G9. It's something very special. A lot of that is down to immersion. The outrageous 32:9 aspect, plus the very tight curve and mega 49-inch proportions, make for an incredible wrap-around experience. Just remember that you'll need one heck of a graphics card to drive this screen smoothly in the latest games. The overall pixel count is nearly as high as full 4K.
Overall then, Samsung's insane 49-inch gaming beast packs an incredible punch, but that flawed HDR implementation is disappointing.
Read our full Samsung Odyssey G9 review (opens in new tab).
The Pixio PXC277 is about as barebones as they come in regards to gaming monitors, but it's still got the goods where it counts. And that also means it comes in at a pleasingly low price point, too. This 27-inch curved 1440p panel provides frames at a solid 165Hz and is also FreeSync certified.
And if you're after a curved monitor, then the tight 1500R curve of the Pixio will satisfy those bendy cravings. At 27-inches I've maybe found the experience less immersive than something like the 1000R wraparound feeling the Samsung Odyssey G9 delivers, but then that's also the price of a whole PC.
The screen itself is advertised as anti-glare and holds up in most brightly lit environments—and I always find the thin bezel a plus in my monitor experience.
The biggest draw to the PXC277 is obviously its low price point. It's a great entry-level option for those looking for a larger screen with a high refresh rate and who don't want to be left completely broke. As this is a budget display, while you do get gaming specific features, such as multiple overdrive levels, dynamic contrast, and HDR support they're not at the same level as higher-end displays.
I mean, it will technically do HDR, but with a peak luminance of 400 cd/m2 it's not that punchy, and doesn't deliver any extra contrast when enabled. So yeah, I'd suggest that's best left turned off. Pixio's claims of 1ms response is also based on MPRT, which really does impact the brightness of the panel, too. Again, I'd recommend not going with that.
Monitor controls are always a pain, but the joystick style is the most intuitive I've found. Though on the Pixio it's located in a slightly odd position, making it a little tough to track down initially.
But you will struggle to find a monitor with this sort of specs sheet for the money. And the basics it does well; the 165 Hz refresh rate is great for games, and the 1440p resolution is the perfect mix of high resolution and decent pixel pitch for a 27-inch panel. It's simply one of the best-value curved gaming monitors around.
Best computer speakers (opens in new tab) | Best gaming headset (opens in new tab) | Best gaming laptop (opens in new tab) | Best wireless gaming headset (opens in new tab) | Best PC controller (opens in new tab) | Best capture card (opens in new tab)
Best curved gaming monitor FAQ
What do I need to consider when buying a curved gaming monitor?
If you're considering ditching your flat screen lifestyle for all-encompassing visuals, there are a few things to consider. First off, the three Rs: resolution, refresh rate, and response time.
Higher resolution means more load on your graphics card but more detailed images. A higher refresh rate means speedier visuals. And response time can be useful for bolstering your in-game reflexes.
The final consideration is curvature.
What level of monitor curvature should I choose?
Your panel's curvature, or curve radius, is key to your viewing experience. Most curved panels are rated across a range: roughly 4000R to 1500R. The lower the number, the higher the curvature of the panel. This is one of the reasons the Samsung Odyssey G9's 1000R curve is so surprising—it has a much tighter curve than anything else out there.
The distance you sit from your monitor will also help you choose which curvature is ideal for you. You'll generally find gaming monitors around the 1800R mark, right in the sweet spot for desktop gaming. A more pronounced curve, viewed at a greater distance, could negatively impact viewing angles and your overall experience.
How do you test a gaming monitor?
There are two main ways to test out our screens to determine the best gaming monitor. The first is by playing games on it, obviously. Subjectively testing each panel's gaming performance isn't necessarily going to give you the lowdown on the specifics of a particular screen. Still, it will let you test the functioning aspect ratio, native resolution, and any particular gamer-centric technologies they're sporting.
Side-by-side comparative testing in this manner is also precious for keying into the sometimes subtle differences between each panel. When you use a screen in isolation, it's easy to become blind to its comparative faults as you get used to them. Testing screens back-to-back allows us to discover and highlight specific issues between them.
Objective testing can be great, but it's also far more difficult. To do it properly, you need hardware for testing the true latency, color accuracy, and other metrics. Most gamers don't have access to any of this, but you can do a semblance of objective testing using the LCD calibration pages here (opens in new tab). This site offers several test screens to bring up on any web-connected panel to make some qualitative assessments. The days of actual retail space for such things are dwindling, but if you can get a look at a screen before purchasing it, plugging a notebook or such into it and checking out the Lagom pages is very handy.